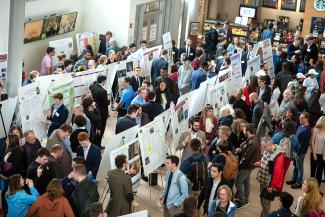 Undergraduate research at Union College had its origin in the first third of the 20th century, when chemistry professor Charles Hurd began involving students in his colloid chemistry investigations. Since then, undergraduate research has taken hold in all disciplines at the College, making this endeavor the lynchpin of the Union education.
By the mid-1960s several disciplines at Union had established a senior research thesis requirement, and in 1978 the College began funding faculty-mentored student research in all disciplines. This was followed by the creation of funded summer research opportunities, again in all disciplines at the College, in 1986. The Steinmetz Symposium, a celebration of student research, has been held yearly since 1991.
Undergraduate Research at Union: A Tradition and A Celebration
Union is proud to dedicate the Charles Proteus Steinmetz Symposium on student creative, scholarly and research achievement to the memory of this scholar, teacher and practitioner.
Hands-on, faculty-mentored undergraduate research is at the heart of a Union education.
Working closely with their professors in every academic department – in labs, studios, archives and the field – students delve into topics that intrigue and challenge them intellectually and creatively.
Each spring, they share their talents with peers, parents and professors at the campus-wide Steinmetz Symposium.  Held yearly since 1991, the symposium features an extensive array of oral presentations, posters, performances and art exhibits, with concurrent sessions held all day in lieu of regularly scheduled classes.
Hundreds of students give presentations on topics as diverse as "Jane Austen's Radical Women," "Andalusian Physics," "Patriotism and Propaganda in Wartime" and the "Design and Analysis of an Indoor Air Biofiltration System."  Among the arts highlights are a dance concert in the Nott Memorial, musical performances and exhibits.
The Steinmetz Symposium is named for one of the College's most renowned faculty members, Charles Proteus Steinmetz (1865-1923), who taught electrical engineering and applied physics.  Also a leading engineer for the General Electric Company, he was widely regarded as America's leading electrical engineer.
The symposium is part of Recognition Weekend, which includes Prize Day, a tribute to student achievement in all fields.