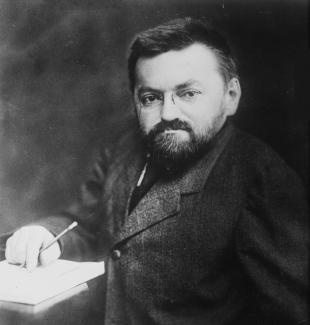 The Steinmetz Symposium is named for one of the College's most renowned faculty members, Charles Proteus Steinmetz (1865-1923), who taught electrical engineering and applied physics. Also a chief engineer for the General Electric Company, he was widely regarded as America's leading electrical engineer.
Born Carl August Steinmetz in Breslau, Germany (now Wroclaw, Poland), Steinmetz studied in Breslau, Zurich and Berlin, pursuing a broad course of scholarship that included astronomy, biology, chemistry, electricity, physics and political economy. He received his Ph.D. in 1888 and was forced to flee Germany after writing a paper critical of the German government. He then settled in New York City, where he developed the law of hysteresis, which enabled engineers to design better electric motors for use in industry. He joined GE in 1892 and relocated to Schenectady.
Among his many other contributions to electrical engineering, Steinmetz also fostered the development of alternating current, which made possible the expansion of the nation's electric power industry. In 1902, he became professor of electrical engineering at Union. Three years later, he took charge of Union's new electrical engineering program.
After World War I, Steinmetz ceased lecturing at Union, but he remained an active friend of the College for the rest of his life. A superior 1914 "Duplex Drive Brougham" Detroit Electric automobile that belonged to Steinmetz is on permanent display in the first-floor corridor between the Wold and Olin buildings.